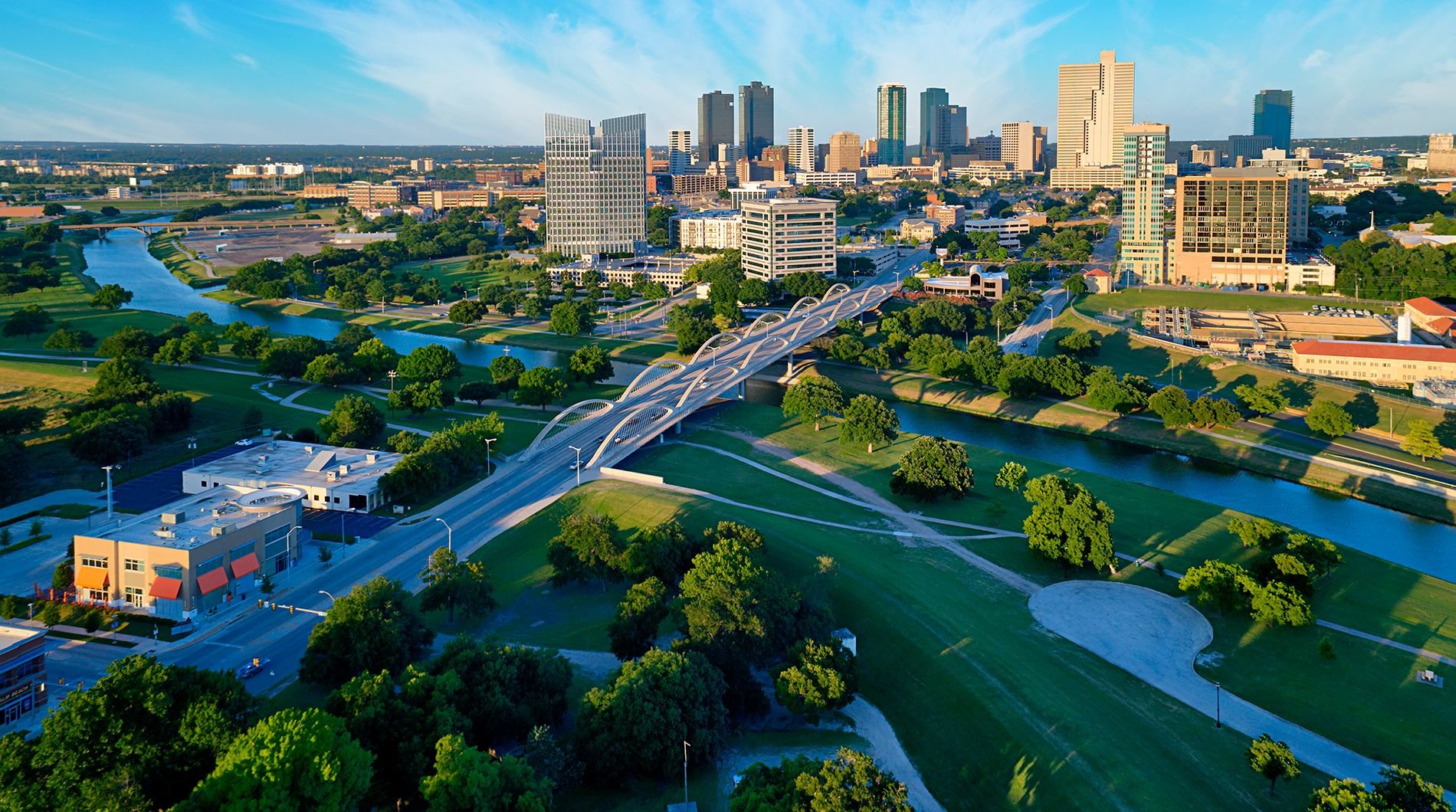 Supreme Lending is Here to Help our Fort Worth Neighbors
A member of our dedicated team can get you started on your home financing journey and answer any questions you have about the home purchase or refinancing process.
Homeownership in Fort Worth, Texas
There are many factors that draw people to call Fort Worth home. A few things that top the list are the "wild west" vibe, the excellent museums, the dining, festivals, and on top of all that—the low cost of living. You might think of "Cowboy Culture" when you think of Fort Worth, but as the 5th largest city in Texas, there's that and so much more! If you are thinking of becoming a homeowner in Fort Worth, you'll also find there's so much more to finding the right lender for your individual situation. Supreme Lending is a local mortgage lender in Fort Worth, and we are experts in the Texas market. Here are a few Fort Worth facts for future homeowners:
2023 Fort Worth Population

961,885

April 2023 Median Home Sale Price

$340K

Rank Among Largest Cities in the United States

12th

Total Number of Schools in Fort Worth (Public and Private)

603
Tarrant County
Supreme Lending—The Mortgage Company to Trust in Fort Worth, Texas
Although it is a big city, Fort Worth has a small-town, quaint feel. At Supreme Lending, we provide a personalized level of service to our Fort Worth neighbors, treating them like family members. We want to be the mortgage provider Fort Worth residents trust for life. Whether you are a first-time homebuyer looking for your first home loan, or you want to refinance your Fort Worth home, you will want to work with a lender that has your best interests in mind. With Supreme Lending, you will never be just a loan number. In addition, you will see that getting the right mortgage can be an easy and positive experience. Our Texas mortgage professionals will be on your side and ready to walk with you wherever your journey of becoming a homeowner takes you. Let us show you the difference in working with a local mortgage lender.
First-Time Homebuyer Loans for Future Forth Worth Residents
If you are ready to take the leap and change your rent payment for a payment on your own Texas home, Supreme Lending is here to help. Our mortgage professionals will answer your questions and help you find the best home loan solution for your first Fort Worth home. Oftentimes our first-time homebuyers are unsure of the mortgage process and how it works. At Supreme lending, we have a variety of mortgage options for first-time homebuyers, including the following common home loan types:
Conventional Home Loan

A Conventional home may be an option if you are a first-time homebuyer with better than average credit. Because these mortgage types are backed by a private lender like Supreme Lending, and not a government agency, qualifications are often more stringent.

FHA Home Loan

If you need more relaxed qualification guidelines, an FHA home loan may be the best option. FHA home loans are insured by the Federal Housing Administration, so requirements are more lenient for first-time homebuyers.

VA Home Loan

An ideal option for active-duty service members or veterans, a VA home loan offers competitive rates as well as no down payment requirement. These loan types are insured by the U.S. Department of Veterans Affairs.
Contact Us to Get Prequalified
We are committed to delivering a SUPREME homebuying experience.
Fort Worth's Mortgage Refinance Loan Experts
If you are happy with the Fort Worth home you own, but you think can improve your mortgage terms, the mortgage professionals at Supreme Lending are ready to step in and assist. Once we understand your long-term goals as a homeowner, we'll provide you with the best potential options for a home loan refinance. Refinancing may get you more favorable terms and a lower monthly payment. If you need extra cash for home renovations, college tuition, or any other purpose, a mortgage refinance might be the answer. Here are a few objectives we may be able to assist you with:
Improve your mortgage terms.

This is one of the most common reasons for a mortgage refinance. If you qualify for a better interest rate, or if you are eligible to remove private mortgage insurance (PMI), you may be able to achieve a lower monthly mortgage payment.

Cash out equity.

With home values at historic levels in Texas, a cash-out refinance may be a solution you want to take advantage of for paying off debt, paying college tuition, or making needed home improvements.

Pay off your home faster.

If you are approaching retirement, and you think you'd like to pay off your home faster than with your original 30-year mortgage, we can help you determine if that is a smart solution.
Five-Star Home Financing in Fort Worth, Texas
At Supreme Lending, we realize that you have many options when it comes to finding first-time homebuyer programs and refinance loans. One of the biggest differences you will find with our mortgage professionals is our dedication. We truly care about our customers, and the difference shows in the service we provide. Our decades of experience in lending means we know the Texas mortgage industry better than other lenders. We are proud to be a local mortgage lender in Fort Worth. We serve the community by helping people achieve their homeownership goals. To learn more about Supreme Lending and how we can help you purchase or refinance a home in Fort Worth, Texas, contact us today.