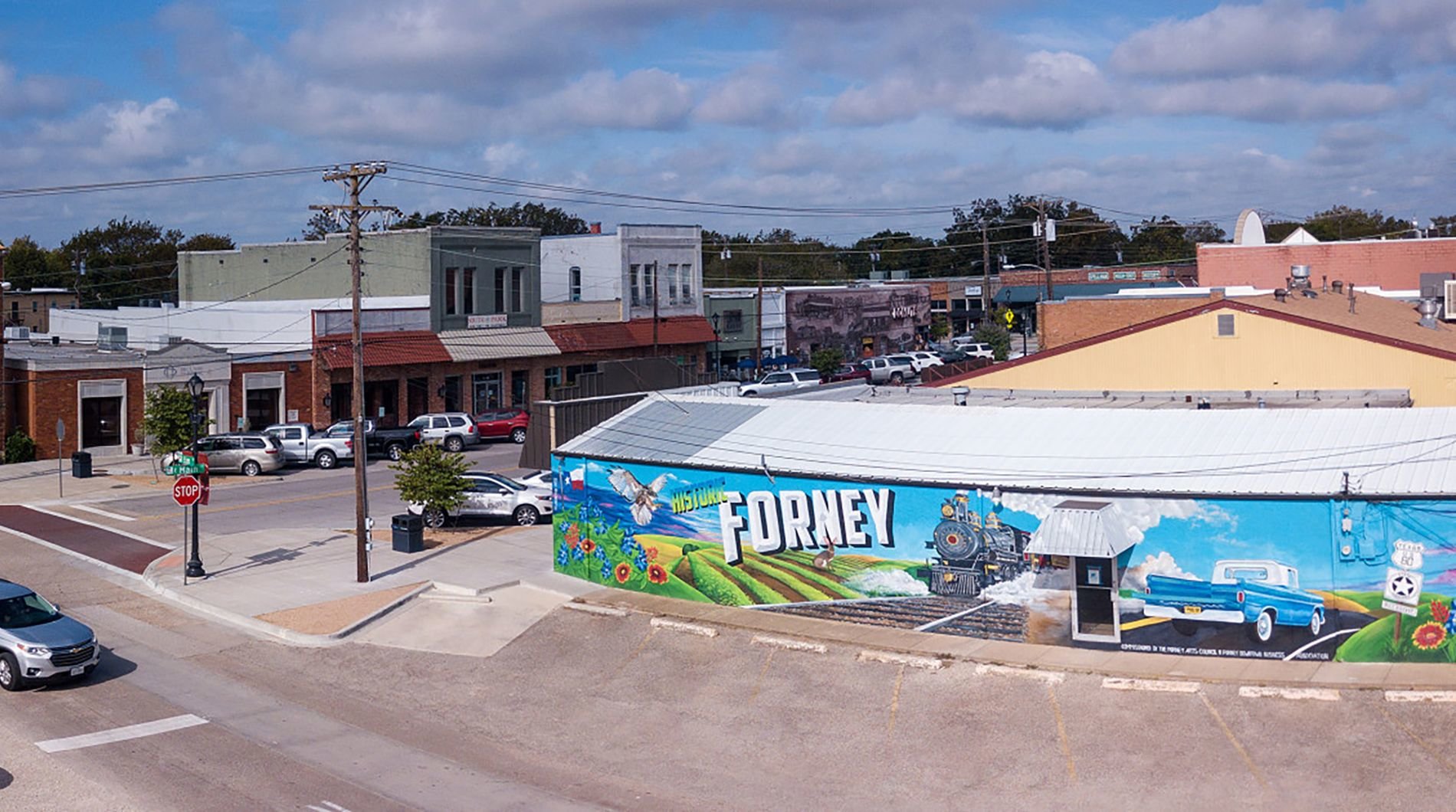 Supreme Lending is Here to Help our Forney Neighbors
A member of our dedicated team can get you started on your home financing journey and answer any questions you have about the home purchase or refinancing process.
Homeownership in Forney, Texas
Forney, Texas, offers resident homeowners an ideal blend of modern comfort and suburban quiet. Designated as the "Antique Capital of Texas," it is one of the gems of the DFW metroplex for individuals and families moving to Texas. Forney takes great pride in its past with a legacy of long-time residents. At Supreme Lending, our mortgage professionals also take pride in providing the highest quality service to Texas first-time homebuyers and Texas refinance customers. Our goal as your local mortgage lender is to create customers for life. Here is some additional information about Forney that residents might find useful:
2023 Forney Population

35,498

April 2023 Median Home Listing Price

$360K

Percentage of Growth in Forney Since 2010

48.6%

Total Number of Schools in Forney (Public and Private)

23
Kaufman County
Texas Mortgage Loans and Refinance Solutions
The Forney community features historic buildings, unique restaurants, numerous acres of parks, and events for the entire family. With something for everyone to enjoy in Forney, Texas, it's no wonder that many first-time homebuyers are choosing to call it home and current homeowners are wanting to stay. If you are considering buying a house or refinancing your property in Forney, you can count on Supreme Lending. As a preferred mortgage lender in Texas, we are experts in all types of home loans. Our friendly and knowledgeable mortgage professionals provide a highly personalized level of service. We will offer you guidance throughout the home loan application, approval, underwriting, and closing processes. Working with Supreme Lending, you will be surprised just how easy it can be to reach your home loan finance goals.
The Supreme Team of Experts for Forney First-Time Homebuyers
If you are ready to buy a home in Forney, or even if you are in the early stages of considering homeownership, you need a team of experts to help you find the right home loan solution. Our experienced Texas home loan team at Supreme Lending has over two decades of experience in helping first-time homebuyers achieve their dream of homeownership. We have a wide range of loan products and programs, including the following:
Conventional Home Loan

This loan type can be a great solution for first-time homebuyers with better-than-average credit. Your excellent credit can earn you low closing costs and low interest rates.

FHA Home Loan

This loan type can be a great solution if you will need more flexible qualification requirements. Low down payment options are also available, and you can use gift funds to assist you with your down payment.

VA Home Loan

This loan type is typically the best option for active-duty service members and veterans. Insured by the U.S. Department of Veterans Affairs, this benefit provides for no down payment requirement and low interest rates.
Contact Us to Get Prequalified
We are committed to delivering a SUPREME homebuying experience.
Supreme Lending Has the Right Mortgage Refinance Solution for You
Would you like to lower your monthly mortgage payment? Perhaps the interest rate on your current home loan is too high? Do you need to take out equity in cash? Or maybe you are ready to eliminate private mortgage insurance (PMI) or shorten your mortgage term so you can pay off your home more quickly? Supreme Lending has the mortgage refinance loan you need for your Forney residence. Whatever your goal might be, trust our team of mortgage professionals to help you determine the best refinance option for you. Here are some ways we can help.
Reduce monthly mortgage payment.

There are several different ways this goal can be achieved, including obtaining a home loan with a lower interest rate or eliminating the required monthly private mortgage insurance obligation.

Shorten your mortgage term.

If your refinance goal is to pay your current home loan off more quickly, shortening your mortgage term may be the best solution. By shortening your term, you may also qualify for a lower interest rate.

Take out equity in cash.

If your refinance goal is to use your home's equity for another purpose, such as to pay off higher interest debt or to complete remodeling projects, Supreme Lending can help.
Helping First-Time Homebuyers and Homeowners Throughout Texas
Supreme Lending is proud to be one of the most highly respected loan providers in the state of Texas. As a local mortgage lender, we know how to navigate the complex lending market. In addition, we genuinely enjoy helping our Texas neighbors meet their homeownership goals. Our mortgage professionals will do whatever we can to ensure you have a positive mortgage experience. We are knowledgeable in what we do, and we will share that knowledge with you throughout the entire mortgage process. Supreme Lending is your go-to source for home financing solutions. To learn more about how Supreme Lending can serve you, or to start shopping for home loan solutions in Forney, Texas, contact us today.