How Does a Renovation Loan Work in Texas?
With a Renovation loan from Supreme Lending, you can buy a fixer-upper or refinance to upgrade your existing home.
Have you thought of buying a fixer-upper in Texas to renovate for an investment property, but you weren't quite sure how to get financing? Or maybe you're a Texas homeowner and you'd like to make some home improvements to your existing property to increase its value, but you weren't sure how to finance the upgrades?
It's easier than ever to accomplish either goal with a Renovation home loan from Supreme Lending. Even better, you can bundle the mortgage and the home improvement costs into one loan. This means you won't have to apply for two separate loans or pay closing costs twice.
How does it work? As your local mortgage lender in Texas, we'd love to help you on your renovation journey. We'll explain the details of a Renovation home loan, for both purchase and refinance, and walk through how it works step by step.
Contact us to get pre-approved for a home renovation loan today!
Renovation Home Loan Requirements
Supreme Lending's Renovation home loan is all-in-one, meaning you can use the loan for the purchase and the home improvements. Here is a detailed list of eligible property types, improvements that can be made, loan limits, and qualifying requirements.
Eligible Property Types
You can use a Renovation home loan to renovate pretty much any type of property in Texas. Below is a full list of eligible property types.
Single-family home
Condo
Townhome
Manufactured home (single unit only)
Investment home (single unit only)
Second home (single unit only)
Multi-family home up to four units
All property types are eligible as a fixer-upper purchase for investors or refinance for current Texas homeowners.
Home Improvements Eligible for Financing
Renovation home loans are very flexible when it comes to the upgrades you can make on either a fixer-upper purchase or an existing home improvement refinance. In short, you can do just about any type of improvement, as long as it is permanently affixed to the property.
Also keep in mind that the property does not need to be inhabitable while home renovations are under way. Here are some examples of home improvements that can be made:
Update flooring
Repaint or remodel home exterior
Renovate kitchen
Add or remodel a bathroom
Replace roofing
Add retaining walls
Install permanent landscaping
Build an accessory unit, such as a mother-in-law apartment
Install an in-ground swimming pool
Make energy efficiency upgrades
Refit a home for a person with a disability
You do not need to make major improvements with a Renovation home loan, smaller improvements like repainting and replacing light fixtures qualify as well.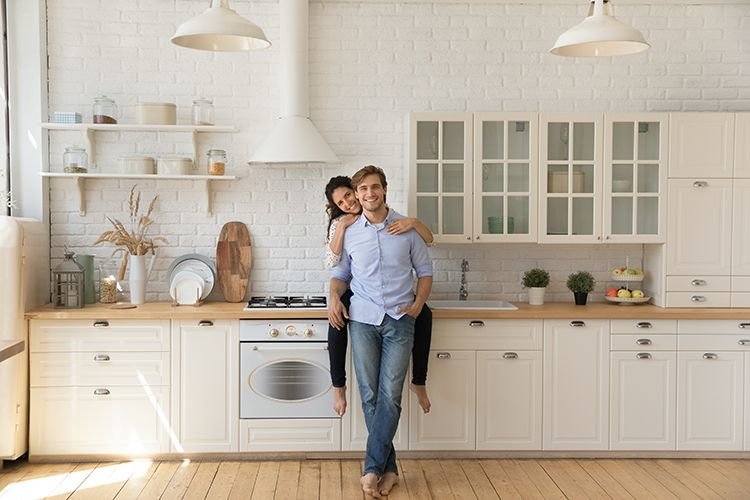 Renovation Loan Limits
Loan limits on a Renovation home loan follow the same guidelines as a conforming Conventional loan. These limits are set by county and are updated annually. The maximum loan-to-value (LTV) is 97% on a renovation loan for a single-unit primary residence. For a single-family home in a typical market, borrowers can take out a loan up to $726,600.
You can borrow up to 75% of the home's after-repair value for the renovation portion of the loan. The limit is 50% of the after-repair value on manufactured homes.
Renovation Loan Qualification Criteria
With Supreme Lending, a Renovation home loan has a minimum credit score requirement of 620. Keep in mind if you have a higher credit score, you will likely qualify for a better interest rate. The down payment requirement, debt-to-income ratio requirement, and reserve requirement will vary depending on your credit score. You will need a debt-to-income ratio of at least 45%.
The minimum down payment requirement for a Renovation home loan is also dependent on the property type. Here are the general guidelines for down payments for qualified borrowers:
Single-family property, condo, townhome, or manufactured home: 3% minimum
Duplex: 15% minimum
Triplex or quadplex: 25% minimum
Investment property: 15% minimum on a purchase, 25% minimum on a refinance
If you put down less than 20%, you will need to pay for private mortgage insurance (PMI) as part of your monthly payment. This can be cancelled as soon as you accumulate 20% in equity.
Renovation Home Loan Steps
Get Pre-Approved
Whether you are looking at an investment property, or you are a current Texas homeowner looking to make home improvements, a great first step is to get pre-approved. This will help you determine how much you can afford based on your credit, income, and debt. You will then have a guide for how much you will need for a down payment and closing costs.
Pre-approval also helps identify any potential roadblocks to avoid surprises down the road.
Make a Renovation Plan
If you are looking to invest in purchasing a fixer-upper, once you are pre-approved you can start your property search. We recommend working with a qualified Real Estate Agent in your home search. A Real Estate Agent can advocate on your behalf and help you avoid any pitfalls along the way.
Whether you are purchasing or refinancing to update your existing home, you will need to find an experienced licensed contractor to do the work. The contractor will work with you on plans and pricing to make sure you stay within your budget.
The plans, specifications, and contracts will need to be approved before moving forward. The plan must detail all work to be done and include the dates when the project will start and end. Renovations should be completed within 12 months from the date when the Renovation home loan is closed.
Final Inspection and Appraisal
Once home renovations are complete, a final appraisal will be ordered and the title policy will be updated. A signed completion certificate must be obtained.
Any funds not used for the renovation may be used to either reduce the balance of the home loan, or they can be used to make additional improvements to the property.
Supreme Lending—Texas' Renovation Home Loan Specialists
Supreme Lending is your local mortgage lender in Texas, and we are ready to assist with all of your Renovation home loan needs.
We help homebuyers and homeowners throughout the great state of Texas, and we're proud to be one of the largest lenders in the state. We will help you along your renovation journey, explaining every step of the process along the way. We genuinely enjoy helping our Texas neighbors achieve their home improvement goals.
To learn more about how you can get started with a Renovation home loan from Supreme Lending, contact us today.