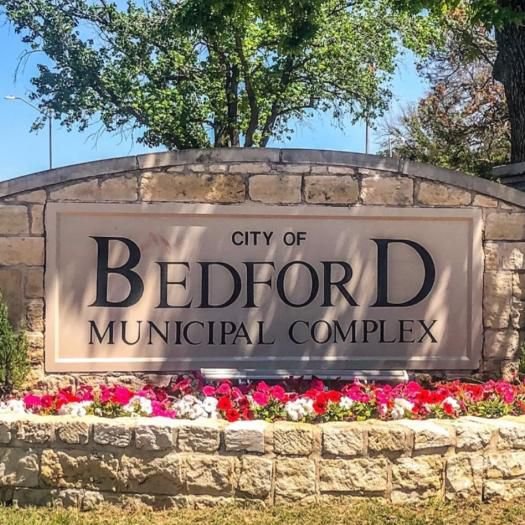 Supreme Lending is Here to Help our Bedford Neighbors
A member of our dedicated team can get you started on your home financing journey and answer any questions you have about the home purchase or refinancing process.
Homeownership in Bedford, Texas
There are plenty of reasons why first-time homebuyers choose Bedford, Texas, as the location to become a new homeowner. Bedford has beautiful green spaces, there is an incredible arts scene and thriving downtown, and the houses are affordable. Current residents also love the great schools and the fact that Bedford is located 30 minutes from downtown Dallas and just 15 minutes from Fort Worth. Current residents and future residents alike turn to Supreme Lending as their local mortgage lender for their home loan needs in Bedford. Here are a few Bedford facts that may be of interest to all residents:
2023 Bedford Population

47,978

April 2023 Median Home Listing Price

$406K

Number of Bedford Parks Open Daily for Use

9

Total Number of Schools in Bedford (Public and Private)

31
Tarrant County
Local Mortgage Professionals You Can Trust in Bedford, Texas
Whether you are looking for suburban peace and quiet or you want easy access to nearby attractions—Bedford has something for everyone. Supreme Lending is your local mortgage lender in Bedford, and we know the Texas lending market. If you are a first-time homebuyer looking to purchase your first home, you can trust that we will be there to guide you every step of the way. We're just as happy to help homeowners with mortgage refinancing. You can count on our mortgage professionals to give you guidance to avoid any headaches or hassles. As a top-rated lender in Texas, our stellar reputation is very important to us. We think of it as a privilege to help homebuyers and homeowners achieve their homeownership goals, and we'll make every effort to assist you in achieving them.
Home Loan Financing for Texas First-Time Homebuyers
Supreme Lending has a wide range of home loan finance solutions for first-time Bedford, Texas, homebuyers. A popular option for first-time homebuyers is a Conventional loan guaranteed by a private lender like Supreme Lending. Conventional loans typically have more liberal property standards than a government-insured loan, like an FHA loan. However, many Texas residents may find a home loan insured by a federal government agency, such as the Federal Housing Administration (FHA) or the U.S. Department of Veterans Affairs (VA) is a better option because of the more flexible qualification standards. Our mortgage professionals will be there to guide you to the right solution for your situation.
Conventional Home Loan

Qualifying for a Conventional loan often means a lower interest rate for a first-time homebuyers. In addition, they allow for slightly smaller down payments.

FHA Home Loan

Qualifying for an FHA loan may be easier for a first-time homebuyer with lower credit scores. These loans require up-front mortgage insurance and annual mortgage insurance for all borrowers.

VA Home Loan

Qualifying Veterans and active duty servicemembers can take advantage of a VA home loan with no down payment requirement and competitive interest rates. VA loans do require a funding fee, which is paid at closing.
Contact Us to Get Prequalified
We are committed to delivering a SUPREME homebuying experience.
The Supreme Difference for Refinance Customers
If you already own a home in Bedford, Texas, there are many reasons you may want to consider a refinance loan. Through refinancing with Supreme Lending, you may be able to reduce the amount of your monthly mortgage payments, secure a lower interest rate, or change the terms of your home loan—you might even achieve all three objectives. Whatever your mortgage refinancing needs, as your local mortgage lender in Texas, we are here to guide you through the home loan process and make sure you fully understand all of your mortgage refinance options.
Reduce monthly mortgage payments.

With a mortgage refinance, you may be able to get rid of Private Mortgage Insurance (PMI), which can reduce the amount of your monthly mortgage payment.

Secure a lower interest rate.

If you qualify for a mortgage refinance at a lower interest rate, this can also reduce the amount of your monthly mortgage payment.

Change the terms of your home loan.

Another option to refinance your current mortgage into a new loan with a longer term. This can lower your monthly payment by spreading the amount you owe over a longer repayment period.
Rely on Texas's Preferred Lender to Meeting Your Home Loan Needs
The mortgage professionals at Supreme Lending have been helping Bedford homebuyers and homeowners secure mortgages for 20+ years, and we are ready to help you find your ideal home loan program. We will do whatever we can to make the home loan process a breeze. Our goal is to be the Texas mortgage company you call every time you're in need of home loan financing. At Supreme Lending, you won't be treated like just another file. You can expect professional, courteous service and a simple and hassle-free mortgage process. Whether you are a first-time homebuyer, or you want to refinance, you will be sure to appreciate the Supreme Lending difference. For an exceptional home loan experience and the right mortgage or refinance loan, contact Supreme Lending today!